Student Success Stories
In the Heat of the Moment: Undergraduate Research to Combat Climate Change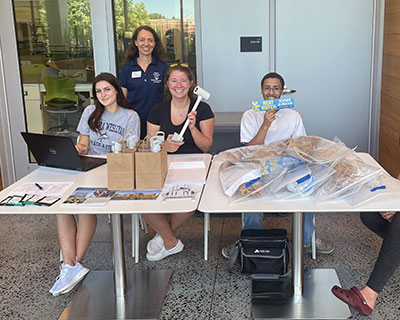 Brynn Vandegriff '22 can take the heat. The Earth and Environmental Sciences major spent the hot summer of 2021 traveling the city of Virginia Beach to measure heat and its impact on the community. Her research, sponsored by CAPA Strategies, an organization that provides data analytics and resources to help communities build capacity to adapt to climate change, focused on heat distribution in the Virginia Beach area. The data she collected will help local officials to make decisions about the region's future.
She worked closely with her research mentor, Prof. Elizabeth Malcolm, to train volunteers, map research routes, and organize data collection. In addition, she applied for and received an Undergraduate Research grant from the VFIC Undergraduate Science Research Fellowship program.
As someone who is interested in a career focused on climate change and preventative measures, Brynn used this experience to gain knowledge about the field, the community, and herself. And, to become a spokesperson for the cause on the local news.
"My most memorable moment," she explained, "was being interviewed by Steven Fundaro, a meteorologist from Wavy 10 News. The story aired on the day of our data collection date, and our story played on the news throughout the day. It was great to see that our study was gaining so much exposure."
"Undergraduate Research is time consuming and sometimes difficult to work out all the details (everything will NOT always work according to plan!); however, it is definitely worth it in the end because you know you are making a difference."
An Interview with Brynn Vandegriff
What did you do to prepare for the experience?
A lot of planning went into this project. Initially, my advisor, Dr. Malcolm, and I reached out to the community in order to gain volunteers. We helped with drafting different route plans, briefing volunteers on their training, assigning people to their specific routes, and organizing the data collection day.
How did your experience help focus your academic and career path?
I was able to strengthen my abilities, such as organization, research, and communication skills. There were often times where issues arose and I was able to gain problem-solving skills as well, which is extremely important in this field. The experience I gained through this study has helped me to narrow my career path. It increased my interest in ways to prevent and solve climate change, especially within smaller cities and areas where heat is prevalent.

What were the most important takeaways from your experience?
We have not received data back from CAPA strategies yet; however, the most important takeaways from this experience will be analyzing the areas of uneven heat distribution and understanding the cause of this inequity.
What did you find most surprising about your experience?
I was most surprised by the overwhelming amount of volunteers that we gained. There were so many people from the community willing to help with this project, we had more help than we needed! It was great to see that something like this interested so many community members.
What is the biggest thing you learned about yourself?
I learned that I was able to help organize such a large amount of volunteers and successfully pull off a research project.
Would you do this experience again? Why or why not? Would you do anything differently?
I would definitely do this experience again. There were so many opportunities for me to connect with different people and community members, which is a great way to make connections and gain insight on different topics relating to my major.
For more information on Virginia Wesleyan's Undergraduate Research Program, visit The Lighthouse: Center for Exploration & Discovery.