Fifth Class - 2013 Inductees
Brandon L. Adair '12
Men's Basketball (2003-07)
Brandon Adair was a member of the 2006 men's basketball National Championship team and the 2007 National runner-up team.  In 2006, he was selected as the National Association of Basketball Coaches (NABC) Division III Player of the Year.  He is No. 1 in VWC history in scoring with 2,100 points, field goals made with 871 and rebounds with 871.  During his career, he was named an All-American in 2006 and 2007; NCAA Division III All-Tournament Team in 2006 and 2007; 2006 NCAA Division III Sectional Tournament MVP; NABC South Region Player of the Year in 2006; All South Region Team in 2005, 2006 and 2007; Virginia College Division Player of Year in 2006 and 2007; Old Dominion Athletic Conference (ODAC) Player of the Year in 2006; and ODAC Tournament MVP in 2005 and 2006.  Adair's four-year record at VWC was 102-22.  Adair lives in Virginia Beach and is pursuing a career in college basketball officiating.

---
Anne Marie Nash Burroughs '04
Women's Lacrosse (2001-04)
Anne Marie Nash Burroughs set the VWC single game record with 11 goals scored in 2003.  She is the co-leader in VWC history in season assists with 59 and recorded 9 assists in a single game in 2004, the second highest in VWC history.  She ranks No.1 in career shots with 526, No. 2 with 217 career goals and owns the top four single game totals of draw control wins, including No. 1 at 14.  She ranked No. 1 nationally in points per game (6.83) and No. 4 nationally in assists per game (3.28) in 2004.  She was named third team All-American in 2004, All-Region honoree in 2002 and 2004, Virginia College Division Player of the Year in 2004, first team All-Virginia in 2004, and four-time All-Old Dominion Athletic Conference (ODAC) honoree.  Burroughs lives in Virginia Beach with her family.

---
Sonny A. Travis
Men's Soccer (1989-06)
Sonny Travis served as the men's soccer coach for 18 years with an overall record of 270-74-31 and a conference record of 119-23-9.  Travis guided VWC to nine first place regular season finishes, eight Old Dominion Athletic Conference (ODAC) tournament championships and 13 NCAA tournament berths.  His 13 teams that qualified for NCAA competition advanced to regional finals six times, including 2006.  Travis was recognized as a NCAA Division III Coach of the Year Finalist in 1990, 1991, and 1994; KAPPA National Coach of the Year in 1997; NSCAA South Region Coach of the Year in 1990; Virginia Intercollegiate Soccer Association Coach of the Year in 1990, 1991, 1994 and 1995; Virginia Sports Information Directors College Division Coach of the Year in 2003 and 2005; and ODAC Coach of the Year in 1990, 1991, 1994, 1995 and 1998.  Travis also served as VWC's Athletic Director for eight years.  Travis lives in Smyrna, Georgia with his family and is the Head Men's Soccer Coach at Emory University.

---
William H. Williard '82
Men's Golf (1978-82)
Bill Williard spent four years as the top player for the Marlins under Coach Don Forsyth.  He was awarded Most Valuable Player and named to the All-Dixie Conference team for three consecutive years from 1980-82.  In the 1982 Dixie Conference Tournament, Bill took the individual honors along with being a Medalist.  He also won the Virginia State Intercollegiate Tournament.  He completed his senior year at VWC with the highest GPA among athletes and received the W.B. Shafer Award.  Bill has been the Cavalier Men's Club Champion 15 times, winning the 18th Virginia State Golf Association Mid-Amateur Championship and holding the Cavalier course record of 59.  He served as a Virginia State Golf Association Board Member from 2003-08.  Bill owns an insurance agency and resides with his family in Virginia Beach.

---
2006 Men's Basketball Team
Virginia Wesleyan's men's basketball team experienced unparalleled success in the 2005-2006 season, compiling a 30-3 overall record highlighted by a 28-game winning streak en route to claiming the 2006 NCAA Division III men's basketball National Championship title.  The National Championship was the first in any sport in Virginia Wesleyan history.  The Marlins are the first ODAC team and the first Division III team in Virginia to win a national basketball title.  The Marlins finished the season with the longest winning streak in the nation (28 games) and set program records for points (2,531), defense (63.3 points allowed per game), rebounds (1,171) and assists (497).  The Marlins also recorded the program's second-highest totals of free throws made (484) and attempted (696) and the second-highest three-point shooting percentage (37.9%).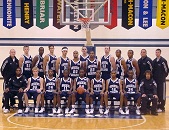 ---
For more information about the Athletic Hall of Fame, contact Lori Harris '94, Executive Director of Annual Giving and Alumni Relations, at lharris@vwu.edu or 757.233.8786.