Tenth Class - 2018 Inductees
Stephen D. Fields '11
Men's Basketball (2007-11)
Stephen Fields is No. 5 in VWU history in most points in a season (603), No. 6 in points in a career (1,657), No. 4 in free throws made in a career (392), No. 1 in free throws made in a season (179), and No. 5 in steals in a career (155).  He was honored as d3hoops.com All-Region (2010), NABC All-South (2010), All-State (2010), and All-ODAC (2008-10).  He also was named to Reese's NABC Division III All-Start game as a senior.  Fields' four-year record at VWU was 91-31 and includes four appearances in the NCAA tournament. Fields is a firefighter and paramedic in Alexandria and lives in Woodbridge, Virginia.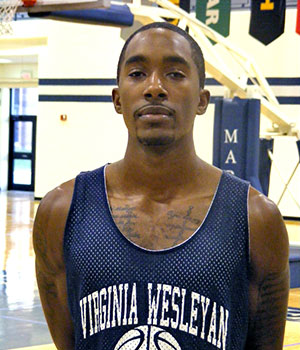 ---
William Conrad Parker
Softball (1998-06), Golf (2006-08)
Conrad Parker taught and coached in the Virginia Beach City Public Schools for 30 years.  He coached basketball, football, golf, softball, and tennis while at Bayside High School.  His softball teams were Beach District Champions in 1993, 1994 and 1995; Regional Champions in 1994 and 1995; and advanced to the state final eight in 1995.  Among Parker's accolades, he was named three-time Softball Coach of the Year in Virginia Beach (1993, 1994, and 1995); Virginia Beach sports Club Male Coach of the Year in 1996-97 and Chesapeake Athletic Club Coach of the Year in 1996.  Upon his retirement from Bayside, Parker easily transitioned to coaching softball at Virginia Wesleyan.  At VWU, Parker had a 217-156-1 overall record with a 90-42 conference record, including the first unbeaten conference record in softball program history (10-0 in 1998).  Parker is retired and lives in Virginia Beach with his wife, Nancy.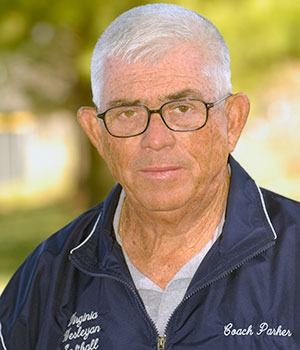 ---
Jennifer L. Perkinson '07
Volleyball (2003-06)
Jen Perkinson was part of the first varsity volleyball team and helped lead the Marlins to a 17-10 record it its inaugural season.  She owns the match record in total attacks (74) vs. North Carolina Wesleyan and holds the best hitting percentage (.900) vs Chowan.  She ranks No. 3 in VWU history in career kills (1,118), No. 3 in total attacks (3,518), tied at No. 4 in career solo blocks (55), No. 4 in block assists (153), and No. 5 in total blocks (208).  She was named All-State in 2005 and 2006, All-ODAC in 2004-06 (first in program history) and CoSIDA Academic All-District (2006).  During her career, the Marlins posted four winning seasons with an overall record of 74-41.  Perkinson is manager of the New Student Support Office at Tidewater Community College and lives in Portsmouth, Virginia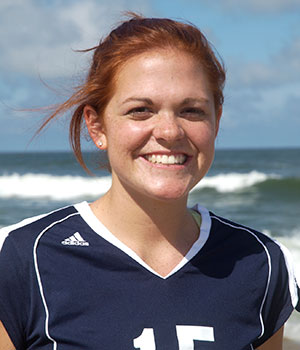 ---
Sharon Hay Stokes '05
Women's Soccer (2002-05)
Sharon Stokes ranks No. 2 in career goals (47), No.4 in goals in a season (20), tied at No. 2 in goals in a game (4), No. 5 in career points (107), tied at No. 2 in most shots in a game (10), and No. 3 in shots in a career (272).  Stokes was named an All-American (2005), All-South honoree (2004 and 2005), Virginia College Division Player of the Year (2005), All-Virginia (2004 and 2005), ODAC Player of the Year (2005) and All-ODAC (2004 and 2005).  She helped guide the Marlins to a four-year record of 67-12-8 overall, 39-2-3 in the ODAC and three NCAA tournament appearances.  Stokes is a teacher and lives in Virginia Beach with her family.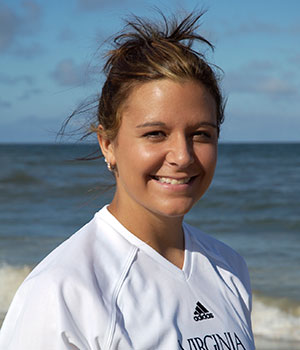 ---
Sean R. Whitson '12
Men's Cross Country and Track and Field (2008-12)
Sean Whitson is the greatest distance runner in Virginia Wesleyan history.  In cross country, he is the only four-time All-ODAC honoree, the 2008 ODAC Rookie of the Year, 2010 Regional Champion with a time of 24:54, three-time national qualifier (only male to qualify more than once) and holds the top three men's 8K times in school history.  In 2010, Whitson was named the USTFCCCA South Region XC Athlete of the Year.  For indoor track and field, Whitson is a two-time ODAC Champion in the Distance Medley Relay (2011 and 2012), the ODAC Champion in the 5,000m in 2010, five-time All-ODAC honoree, and five-time All-Region honoree.  In track and field, he tallied the fifth most career points scored in the ODAC indoor and outdoor track and field competition in school history (41) and was a two-time All-ODAC honoree and two-time All-Region selection.  Whitson is a firefighter and lives in Winchester, Virginia.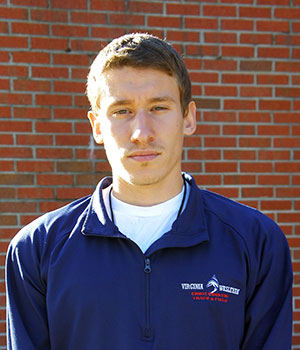 ---
For more information about the Athletic Hall of Fame, contact Lori Harris '94, Executive Director of Annual Giving and Alumni Relations, at lharris@vwu.edu or 757.233.8786.