Twelfth Class - 2020 Inductees
Benefactors
Jane P. Batten H'06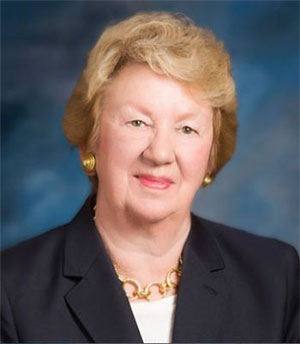 Jane, together with her late husband, Frank Batten, Sr., founder and retired chairman of Landmark Communications, has played a major role in redefining the cultural, educational, and athletic landscape of Virginia Wesleyan University. Named for the University's Trustee Emerita, the Jane P. Batten Student Center is the high-traffic hotspot of student activity, recreation, and public events in the heart of campus. Used year-round, the area is host to convocations, college and career fairs, and a score of recreational activities and sports including 2019 ODAC Championship volleyball team and 2006 National Championship men's basketball team. Known as the hub of athletics, the Batten Student Center houses the natatorium for men's and women's swimming, training rooms, the recently renovated donor-funded men's and women's locker rooms, an indoor track, and the athletics administrative suite. Every athlete, every student…every student-athlete, faculty, and staff member…and countless residents of the Coastal Virginia community have benefitted from this facility. Recognized as a State of the Art facility when it opened 18 years ago, it is still State of the Art today. We are grateful for Jane's significant contributions and service to athletics and recognize that the true scope of that service touches every student, faculty member, and staff member regardless of their athletic affinity. 
George Y. H'16 and Sue Birdsong and the Birdsong Families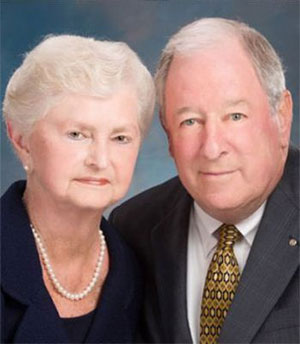 George and Sue Birdsong and the Birdsong families have been special friends to the University dating back to its inception in 1961. A photograph from a Wesleyan groundbreaking in Bray Village between 1961 and 1966 features Harvard Birdsong, George's uncle, along with a young George and his bride Sue attending. Sue's father, the mayor of Suffolk at the time, Major Benton, is also in the picture. At our inaugural Founders Day in 2016, George honored us by delivering the keynote speech. In his speech, he spoke about the history of Virginia Wesleyan and how this old cornfield, previously called Smith Farm, went from growing corn to growing fine graduates like the ones we are honoring today. The Birdsongs have supported many notable projects across multiple areas of the University, academics, student life, community service, and intercollegiate athletics. Every student, graduate, and member of our community has been affected by the Birdsongs expressions of devotion to the institution. Birdsong Field, which was dedicated in 2015, is a capstone facility for intercollegiate sports, housing men's and women's lacrosse, and field hockey. Many midnights under the lights, one can drive by and see students playing a game of flag football. The competitive playing ground for our teams also provides the University an impressive, grand feel as you enter campus. Its iconic structure sets the tone for the Athletics complexes throughout the University, and we could not be more proud.
Athletics
Jessica Edelman Gosnell '13
Women's Soccer (2009-13)
Jessica Gosnell was a key contributor in her four years as a Marlin, helping the squad post a 66-15-6 record. Working as a forward, Gosnell is No. 2 in career assists (34), posting a Virginia Wesleyan best with 14 assists during the 2011 season. She also ranks No. 6 in total goals (38) and No. 4 in total points (110). During her tenure on the squad, Gosnell was named an All-Conference member all four years and was crowned the conference's Scholar-Athlete of the Year in 2012. Her recognition continued as she became just the second player in program history to be tabbed an All-American twice during her career. Gosnell lives in Chesapeake, Virginia, with her husband and two dogs. She is a Practice Lead with Aerotek, a recruiting and staffing agency.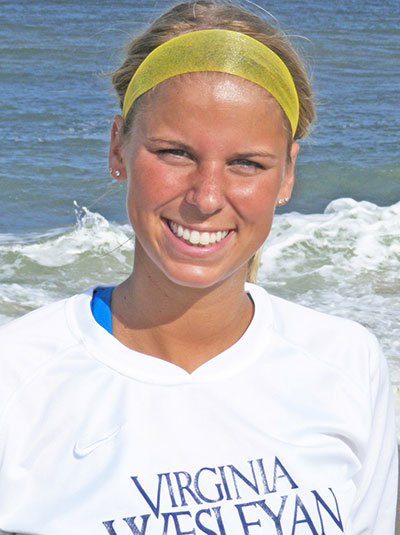 ---
Victoria "Tori" Higginbotham-Abbey '14
Softball (2010-14)
Tori Higginbotham-Abbey is one of the most decorated athletes to ever don a Marlin uniform. The outfielder was a four-year starter for the program, doing most of her damage at the plate. Higginbotham-Abbey tops the VWU record books in career batting average (.449), career hits (245), hits in a season (70), career runs scored (209), and ranks No. 2 in home runs (31). Over her career, she was tabbed an All-ODAC Player all four years and was the only player in conference history to be named the Player of the Year three times. Going beyond that, Higginbotham-Abbey was a four-time All-Region Player as well as a three-time All-American. She also excelled in the classroom and was named an Academic All-American in 2014. Higginbotham-Abbey works for Anthem, Inc., and lives with her husband, David, in Glen Allen, Virginia.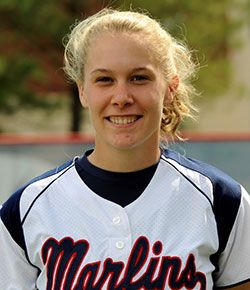 ---
Nancy Mattox Moore '00
Women's Basketball (1996-00) and Softball (1996-00)
Nancy Moore was an anomaly among the collegiate athletics world, excelling in not one, but two different sports. A four-year starter on the basketball team, Moore finished her career No. 5 in total points (1,323) and No. 2 in career made 3-pointers (241). Moore was also in the starting lineup and starting shortstop all four years in softball and currently ranks No. 3 in career assists (330) and No. 5 in runs scored (147). In softball, she earned a spot on the All-Conference Second Team every season. Perhaps the most impressive feat was earning All-Conference accolades all four years in both basketball and softball. In basketball, she had the most field goals in a season (149), the most 3-point field goals in a season (50), and the most assists in a game (15, No. 2 overall) for a first-year player. She is ranked No. 5 overall at 7 total 3-pointers in a game, which occurred in 3 different games in her career, and No. 6 overall (68) and No. 8 overall (62) for 3-point field goals in a season. She received honorable mention once, was tabbed a First Teamer three years and named First Team All-Region player in 2000. Moore is a Senior Analyst in Digital Marketing for Lewis Media Partners and resides with her family in New Kent, Virginia.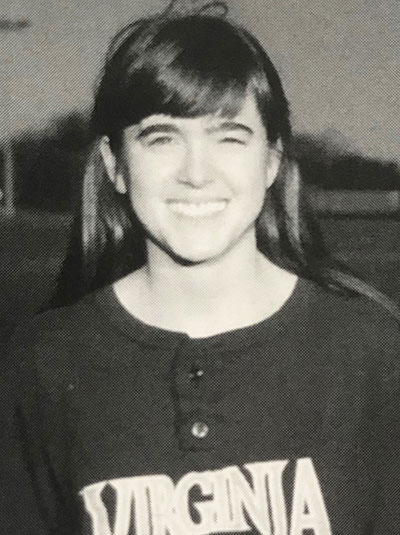 ---
Chris Yeager '94
Men's Soccer (1990-94)
Chris Yeager was voted the Blue Marlins' Rookie of the Year in 1990, top Defender in 1992, and Most Valuable Player in 1993. Also in 1993, he was named VWU's Best Male Athlete. In addition, Yeager started all 85 games during his collegiate career and was named to the NCAA Division III All-South Atlantic Region team in both 1992 and 1993. Yeager served as an assistant coach for the Marlins from 1994-1999. During this time, the Marlins compiled a 77-21-5 overall record, won three ODAC championships and appeared in the NCAA Division III National Tournament four times. Yeager lives in Lynchburg, Virginia, with his family and is the Head Men's Soccer Coach at the University of Lynchburg.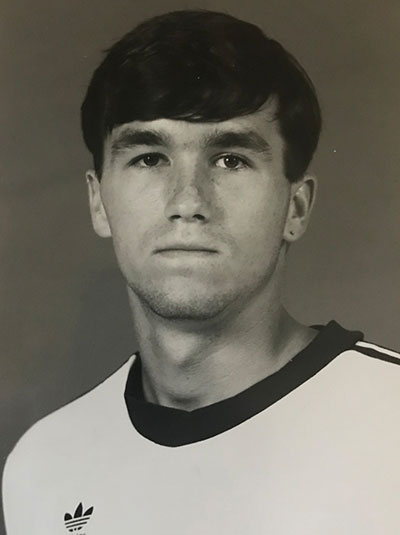 ---
For more information about the Athletic Hall of Fame, contact Lori Harris '94, Executive Director of Annual Giving and Alumni Relations, at lharris@vwu.edu or 757.233.8786.