Seventh Class - 2015 Inductees
William T. Greer, Jr.
President, Virginia Wesleyan College (1992-2015)
For more than 20 years, President Greer has supported Marlin athletics. He is considered to be VWC's No. 1 fan, cheering, applauding and rooting for the 19 intercollegiate sports the College sponsors. During his tenure, Marlin teams have garnered a National Championship in men's basketball in 2006; a Final Four appearance by women's soccer in 2006; 29 conference championships; 46 team NCAA appearances and 7 individual NCAA appearances; and 51 All-American honorees. Greer has been instrumental in leading the way for improvements to VWC's athletic facilities, most notably the construction of the $17.6 million Jane P. Batten Student Center for men's and women's basketball and volleyball; the Trinder Center and Foster Field for men's and women's soccer, men's and women's lacrosse and field hockey; and the Everett Tennis Center for men's and women's tennis.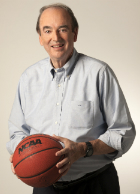 ---
Kelvin D. Murray, Jr. '06
Men's Soccer (2002-05)
Kelvin Murray scored 41 goals, 26 assists and 108 points. He is tied for No. 2 for assists (15) in one season and No. 5 for points (45) in one season. During his career, he was named second team All-American 2002 and 2003; All-South honoree 2002-2004; All-Virginia 2002, 2003, 2005; All-ODAC honoree 2002-2005; 2003 ODAC Player of the Year; and 2003 Virginia College Division Player of the Year. Murray helped guide VWC to a 57-17 overall record, a 27-7-2 ODAC record, two ODAC titles and three NCAA appearances. Kelvin works as a school teacher and serves as the Director of Coaching for Mullica Rec Soccer Club and staff coach for Player Development Academy, a youth soccer organization.
---
Matthew D. Sinnen '83
Baseball (1977-80) and Golf (1983)
Matt Sinnen is No. 1 in VWC history in career batting average (.403) and ranks No. 5 in season batting average (.458) in 1980. Sinnen was the team captain 1979-80 and named VWC most valuable player in 1980. He was selected in the Major League Baseball Draft in 1980 by the Pittsburgh Pirates. During his career, he was named honorable mention All-American in 1980; All-Region honoree in 1979 and 1980; All Conference in 1978-1980. Sinnen served as Assistant Head Baseball Coach from 1982-85. After graduating from VWC, Sinnen founded the Tidewater Drillers Youth AAU baseball program. He has served as head coach of Driller teams that have won 11 state titles with the 2009 team winning the AAU National Championship. Sinnen is the President of Sinnen-Green & Associates, a certified residential real estate appraisal firm in Virginia and North Carolina. He and his family live in Virginia Beach.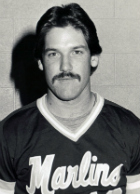 Lindsey J. Williams '08
Women's Soccer (2004-07)
Lindsey Williams was the goalie on the 2006 women's soccer NCAA Final Four and Old Dominion Athletic Conference (ODAC) championship team.  She owns the top three VWC single season goals against averages and VWC career goals against average (.429); tied No. 2 best single-season saves percentage (.893 in 2006); ranks No. 3 in career saves percentage (.867); ranks No. 4 in total career saves (196); owns top two single season shutout totals and VWC career shutout total (39). During her career, she was named NSCAA first team All-American in 2007; All-South Region honoree in 2007; All-Virginia honoree in 2006 and 2007; All-ODAC second team in 2005, honorable mention in 2006 and first team in 2007; All-ODAC Tournament team in 2006 and 2007; and Co-SIDA Academic All-District second team in 2006. Williams works for Turner Sports on the NCAA.com digital website operations team in Atlanta, Georgia.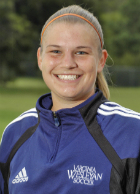 For more information about the Athletic Hall of Fame, contact Lori Harris '94, Executive Director of Annual Giving and Alumni Relations, at lharris@vwu.edu or 757.233.8786.