---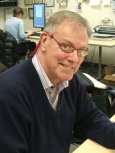 William J. Ruehlmann (Bill)
Professor Emeritus, Journalism and Communication
Email: wjruehlmann@vwu.edu

Bill Ruehlmann was an award-winning feature writer for The Virginian-Pilot and The Ledger-Star and currently writes the Pilot's Sunday book column. He also writes a column on people for Port Folio Weekly. Now a professor of journalism and communications at Virginia Wesleyan, he is author of "Stalking the Feature Story," "Saint with a Gun," "The Feature Story Strikes Back" and thousands of articles reprinted in a variety of mass-circulation publications from Braille to Japanese. Ruehlmann has supervised and introduced new editions of works by such popular writers as Leslie Charteris, Craig Rice, Jonathan Latimer and Stuart Palmer. He twice received the Samuel Nelson Gray Award for Distinguished Teaching and once the Exemplary Teaching Award of the United Methodist Church. Ruehlmann was twice named Adviser of the Year by the Society for Collegiate Journalists and was elected national president of that organization in 2002; he now serves as national executive director. He is also on the executive board of the annual Williamsburg Film Festival. Ruehlmann lives in Norfolk, Va., with his storyteller wife and an assortment of pets.
Ruehlmann, William J. Regular publication of columns on books and people for The Virginian-Pilot (30 years, including four Pulitzer nominations) and for Port Folio Weekly (8 years).
Ruehlmann, William J. The Feature Story Strikes Back. Clarion, Pa.: Society of Collegiate Journalists, 2004.