---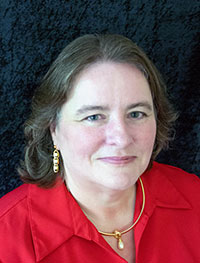 Joyce B. Easter
Professor of Chemistry
---
Degrees Held
B.S., Cornell University
Ph.D., Duke University
Office Location: 223 Blocker Hall
Phone: 757-455-2126
Email: jeaster@vwu.edu
Department/s:
- Chemistry

Joyce Easter received her B.S. with honors in Biology from Cornell University in 1990 and her Ph.D. in Biochemistry from Duke University in 1995. Before joining the faculty at Virginia Wesleyan College in 2000, she was an Assistant Professor of Chemistry at Eastern Illinois University for five years. Easter's research focuses on natural product biochemistry. One line of research she is currently working on involves the detection and isolation of bioactive compounds from marine invertebrates from the Chesapeake Bay and the Eastern Shore of Virginia. Marine invertebrates are a rich source of substances with antimicrobial, antiviral, cytotoxic, and anti-inflammatory properties, and therefore potential lead compounds for new pharmaceuticals. She is also interested in the integration of green chemistry into the pharmaceutical industry both in the synthesis of pharmaceuticals and the identification of potential renewable pharmaceutical feedstocks. Easter has been involved in pedagogical research and curriculum reform for more nearly 20 years as a member of Project Kaleidoscope, the American Chemical Society, and the POGIL Project. She has developed innovative teaching materials and developed inquiry-based experiments for her biochemistry and organic courses. She was the 2002 recipient of both VWC's Samuel Nelson Gray Distinguished Teaching Award and the United Methodist Church Exemplary Teacher Award. In addition to teaching chemistry, Dr. Easter also serves as the Dean of the Batten Honors College.
J.B. Easter and D.E. Otis (2016) Introduction to Physical Science Laboratory Manual, 2nd Ed.; Academx Publishing Services.
J.B. Easter and D.E. Otis (2012) Introduction to Physical Science Laboratory Manual; Academx Publishing Services.
J.B. Easter (2002) "What are they looking for? A Guide to the Graduate School Admission Process" In Chemistry 12 (2) 23-24. (www.acs.org/education/inchemistry.html)