---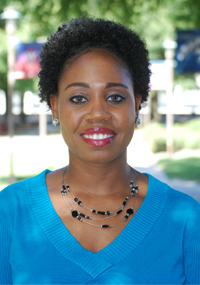 Takeyra M. Coats
Assistant Professor of Sport and Recreation Professions
---
Degrees Held
B.A., Virginia Wesleyan College
M.Ed., Old Dominion University
Ph.D., Old Dominion University
Office Location: 207 Batten Student Center
Phone: 757-455-3304
Email: tcoats@vwu.edu
Department/s:
- Recreational Therapy/Sport and Recreation Management

Takeyra Collins is a Certified Therapeutic Recreation Specialist (CTRS) who worked as the Director of Therapeutic Recreation, within a Psychiatric Hospital in New Orleans, LA, before teaching as a Faculty Member in the Department of Recreation & Leisure Studies at Virginia Wesleyan University. Prior to obtaining positions as a Recreation Therapist with the Department of Veterans Affairs in Honolulu, HI and Naval Medical Center Portsmouth in Portsmouth, Virginia; Takeyra also taught at Old Dominion University as an Instructor in the Human Movement Sciences Department. Takeyra has had the opportunity to work in various clinical, healthcare, and community-based settings with youth at risk and persons with various disabling conditions including spinal cord and brain injuries, mental illnesses, developmental disabilities, and frail older adults. Takeyra Collins is an alumna of Virginia Wesleyan, obtaining her B.A. in Recreation & Leisure Studies with an emphasis in Therapeutic Recreation and a minor in Psychology. Additionally, she was a collegiate athlete on Virginia Wesleyan Women's Volleyball Team. Takeyra received her M.Ed. from Old Dominion University in Recreation & Tourism Studies.
Stolley, K. S., & Collins, T., Clark, P., Hotaling, D., & Takacs, R. (2017, July). "Taking the Learning from Service Learning into the Post-College World." Journal of Applied Social Science, 11(2), 109-126.
Goff, J., Hill, E., Holt, J., Ramsing, R., & Collins, T. (2015, September). Campus recreation day camps: Predicting camper outcomes. Paper presented at the NRPA Leisure Research Symposium (pp. 65-67). Ashburn, VA: National Recreation & Park Association.
Collins, T., Gomez, E., Hill, E. L., Milliken, T., Goff, J., and Gregory, N. (2013). The Resiliency and Attitudes Skills Profile: An Assessment of Factor Structure. Illuminare: A Student Journal in Recreation, Parks, and Leisure Studies, 11(1), 16-30.