Marlin Directory
---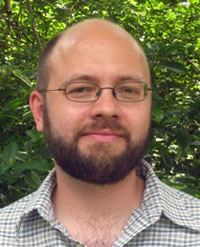 Stephen G.B. Hock
Associate Professor of English
---
Degrees Held
B.A., Haverford College
M.A., Ph.D., University of Pennsylvania
Office Location: 101 Eggleston Commons, Bray Village
Phone: 757-233-8734
Email: shock@vwu.edu
Department/s:
- English

Stephen Hock earned his bachelor's degree in Comparative Literature at Haverford College, and his master's and doctorate in Comparative Literature and Literary Theory at the University of Pennsylvania. At Virginia Wesleyan, his teaching includes courses in first-year composition, the art of comic books, film adaptations of literature, the Great American Novel, American modernism, the postmodern, literary theory, and various topics in American and world literature, as well as the English major's senior thesis workshop. His research focuses on contemporary American literature and culture, with a current project on the ecological aesthetics of Michael Robbins's poetry.
Journal Articles
"'That's Your Uncle?  He's White!' 'Yeah, a Long Time':  Negotiating Whiteness in the Rocky/Creed Series."  Italian Americana, vol. 35, no. 2, 2017, pp. 145-68.
"'A Need to Mourn Abandonment in Advance' in Nathaniel Mackey's From a Broken Bottle Traces of Perfume Still Emanate."  Contemporary Literature, vol. 55, no. 3, 2014, pp. 534-58.
"'Stories Told Sideways Out of the Big Mouth':  John Dos Passos's Bazinian Camera Eye."  Literature/Film Quarterly, vol. 33, no. 1, 2005, pp. 20-27.
Book Chapters
"Memorializing the Future of Donald Trump in Amy Waldman's The Submission."  Trump Fiction:  Essays on Donald Trump in Literature, Film, and Television, edited by Stephen Hock, Lexington Books, 2020, pp. 79-95.
"The Black Box of Genre in Colson Whitehead's The Intuitionist and Charles Yu's How to Live Safely in a Science Fictional Universe." The Poetics of Genre in the Contemporary Novel, edited by Tim Lanzendörfer, Lexington Books, 2016, pp. 57-71.
"Maybe He'd Have to Just Keep Driving, or Pynchon on the Freeway."  Pynchon's California, edited by Scott McClintock and John Miller, University of Iowa Press, 2014, pp. 201-19.
"Comix Remix; or, The Strange Case of Mr. Chabon."  Michael Chabon's America:  Magical Words, Secret Worlds, and Sacred Spaces, edited by Jesse Kavadlo and Bob Batchelor, Rowman & Littlefield, 2014, pp. 81-96.
"This Is Too Big for One Old Name:  Hitchcock and Smithee in the Signature Centrifuge."  Directed by Allen Smithee, edited by Jeremy Braddock and Stephen Hock, University of Minnesota Press, 2001, pp. 175-205.
Edited Collections
Editor and Introduction.  Trump Fiction:  Essays on Donald Trump in Literature, Film, and Television.  Lexington Books, 2020.
With Jeremy Braddock, editors and introduction.  Directed by Allen Smithee.  University of Minnesota Press, 2001.
Creative
"'All My Life My Writing Is':  The Auto-Bio-Graph of Smalloysius F.:  Being Told by Itself."  The Anthology of Babel, edited by Ed Simon, Punctum Books, 2020, pp. 323-44.
My fall 2020 office hours are MTWTH 2-3, and by appointment.  This semester, I am holding office hours remotely over Google Meet.  If you would like the Google Meet link for my office hours, just send me an e-mail, and I will send the link to you.