---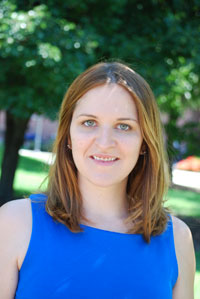 Leslie Caughell serves as the Dean of the Birdsong School of Social Science and an Associate Professor of Political Science and Gender and Women's Studies. She is the author of The Political Battle of the Sexes (Rowman & Littlefield, 2016) and other publications on women in politics, the newsmedia, and teaching in American Politics. Her second book, The Politics of Fake News, explores the causes, consequences of, and solutions to the problem of fake news and conspiracy theories. The book is under contract with a university press and scheduled for publication. Dr. Caughell teaches courses in American politics and political theory. Her work has been featured by the American Press Institute, Ballotpedia, the New American Economy, and the Conversation. She has been an expert source and commentator for media outlets including USA Today, NPR, Virginian Pilot, Richmond Times Dispatch, and Business Insider.
Her research interests center on the demographic and environmental factors that shape political attitudes. She is currently working on a number of projects. The two about which she is most excited examine issues related to female candidates running for public office. The first explores how media stereotypes of women affect their propensity to run for office. Using content analysis of children's programming and an experiment with young children, she examines how the presentation of "feminine" characteristics contributes to gender disparities in political representation by presenting behaviors commonplace in politics, like behaving assertively or expressing disagreement, as unfeminine. Another project examines the conditions under which rumors will spread most widely among the public. This manuscript suggests that the proliferation of social media has substantial implications for the function of democracy, especially if democracy functions best when people have accurate information about politics.
 Caughell, L., A. Cronkhite, & W. Zhang. "#FakeNews in #NatSec." (2019). Parameters: The US Army War College Quarterly, 50(1).
Caughell, L. (Forthcoming). "Politics In the Era of #FakeNews: The Damaging Effects of Misinformation & What We Can Do to Stop It" (Under Contract, University of Toronto Press)
Caughell, L. (2016). Using Website Development to Build Empathy in the Political Science Classroom." PS: Political Science and Politics, 51(2).
Caughell, L. (2016). "When Playing the Woman Card Is Playing Trump: Assessing the Efficacy of Framing Campaigns as Historic." PS: Political Science and Politics, 49(3): 736-742.
Caughell, L, et al. (2016). "2016 APSA Teaching and Learning Conference Track Summaries: Integrating Technology into the Classroom." PS: Political Science and Politics, 49(3): 571-586.
Caughell, L. (2016) "The Political Battle of the Sexes: Exploring the Sources of Gender Gaps in Policy Preferences" Baltimore, MD: Lexington Books.
Caughell, L. (2014). Review of "More Women Can Run: Gender and Pathways to the State Legislatures" The Journal of Politics, 76(4).
Caughell, L. (2013). "Television Personalities and Social Media in Politics" in Encyclopedia of Social Media and Politics. Kerric Harvey and J. G. Golson (Eds.). Washington, D.C.: CQ Press.