---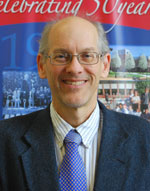 Bud M. Lively (Malcolm)
Associate Professor of Education
---
Degrees Held
B.S., University of Miami
M.A., Jacksonville University
Ph.D., University of Georgia
Office Location: 104 Pruden Hall, Bray Village
Phone: 757-455-3301
Email: blively@vwu.edu
Department/s:
- Education

Dr. Lively received his PhD in Reading Education from The University of Georgia in 1998 and has been at VWU since 2000 following a two-year appointment at The College of William & Mary. His teaching and research interests focus on improving the preparation of teachers and communication processing and comprehension. He is involved in a number of professional organizations and is the founder and Chapter Counselor for VWU's chapter of Kappa Delta Pi. Dr. Lively served as Director of Teacher Education for 8 years, and with guidance from several former faculty and administrators, developed the first approved master's program at VWU in 2017, the MAEd Program in Secondary and PreK-12 Education. In 2018, Dr. Lively received the Exemplary Teacher of the Year Award from the General Board of Higher Education and Ministry of the United Methodist Church. As a co-editor of The Teacher Educator's Journal, he is interested in expanding the dialogue and discussion about teacher education – its past, present, and future – so that we become engaged in more collaborative approaches to prepare new teachers to overcome many of the 21st-century social hurdles that will confront them, both in Virginia and beyond.
Dr. Lively is also an avid cyclist who has completed numerous races and charity events with both current and former professional cyclists and can be found riding often around Hampton Roads with his cycling teammates, as well as attacking the mountains of West Virginia from his family farm.
Ridley, D. R. & Lively, M.  (2004). English letter frequencies and their applications: Part II-Digraph Frequencies. Psychological Reports, 95, 787-794.
Ridley, D. R. & Lively, M. (2003). English letter frequencies and their applications: The Case of   Reading, Part 1. Perceptual and Motor Skills, 96, 545-548.
Pickle, J. M., Tao, L., Lively, M., & Montgomery, T. (1998). Historical and philosophical    antecedents of structural knowledge: Implications for assessment. In E. G. Sturtevant, J.A. Dugan, P. Linder, & W. M. Linek (Eds.), Literacy and Community: The 20th    Yearbook of The College Reading Association (pp. 116-129).  Commerce, Tx: The   College Reading Association.
Manno, F. A., Lively, M., Manno, S. H. C., Cheng, S. H., Lau, C. (2018). Health risk communication message comprehension is influenced by image inclusion. Journal of Visual Communication in Medicine, 41(4), 1-9.