---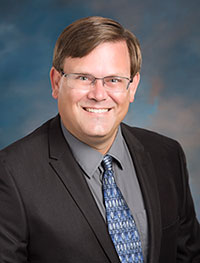 Maynard H. Schaus
Professor of Biology and Environmental Science and Director of Accreditation and Coordinator of Sustainability Management
---
Degrees Held
B.S., California Lutheran University
Ph.D., Miami University (Ohio)
Office Location: 227 Greer Environmental Sciences Center
Phone: 757-455-3284
Email: mschaus@vwu.edu
Department/s:
- Biology
- Environmental Studies
- Earth and Environmental Sciences
-

Dr. Maynard Schaus received his B.S. in Biology from California Lutheran University and his Ph.D. in Zoology from Miami University (Ohio). He has been a member of the Virginia Wesleyan faculty since 1998, and has previously served in several leadership roles, including Vice President for Academic Affairs, Associate Provost and Dean of University College, Chair of the Division of Natural Sciences and Mathematics, and Director of Undergraduate Research.
Dr. Schaus's research on aquatic ecology and the role of fish in lake nutrient cycles in Florida and Ohio has been published in several peer-reviewed journals. He has mentored students on many undergraduate research projects, including studies on fish and nutrient cycles in Lake Apopka (Florida), green roof runoff, salt marsh bird community composition, and nutrient uptake by stormwater management ponds. He has also collaborated on investigations of the ecology of neotropical harvestmen in Belize and Costa Rica, and has led several travel courses to these areas. Dr. Schaus was awarded the Batten Scholar Award in 2008 in recognition of his scholarly efforts.
Schaus, M., S. Larkin, and D. Wilkinson.  2021.  All That You Can't Leave Behind - Essential Post-COVID Technology and Pedagogy.  Metropolitan Universities 32(3): 27-36.
Albert, A.C., V.R. Townsend Jr., M.C. Metro, E.A. Roberto, M.H. Schaus.  2019.  Intraspecific Variation in the Secretion and Morphology of the Scent Glands of a Neotropical Harvestman (Opiliones, Cosmetidae).  J Insect Behav. 32: 225-235.
Vanni, M., P. McIntyre, and 72 other co-authors.  2017.  A global database of nitrogen and phosphorus excretion rates of aquatic animals.  Ecology 98: 1475.
Townsend, V.R., Jr., M.H. Schaus, T. Zvonareva, J.J. Illinik, and J.T. Evans.  2017.  Leg Injuries and Wound Repair in Three Species of Neotropical Cosmetid Harvestmen (Arachnida, Opiliones, Laniatores).  Journal of Morphology 278: 73-88. 
Catalano, M.J. and M.H. Schaus.  2016.  Harvest-Induced Size Structure Shifts Alter Nutrient Release by a Population of Omnivorous Fish.  Transactions of the American Fisheries Society 145: 637-648.
Malcolm, E., M. Reese, M. Schaus, I. Ozmon and L. Tran.  2014.  Measurements of Nutrients and Mercury from Green Roofs and Gravel Roof Runoff.  Ecological Engineering 73: 705-712.
Schaus, M.H., W. Godwin, L. Battoe, M. Coveney, E. Lowe, R. Roth, W.W. Morris and C. Hawkins.  2013.  Effect of a size-selective biomanipulation on nutrient release by gizzard shad in Florida (USA) lakes.  Knowledge and Management of Aquatic Ecosystems 411: 13.
Schaus, M.H., V.R. Townsend and J.J. Illinik.  2013.  Food Choice of the Neotropical Harvestman Erginulus clavotibialis (Opiliones: Laniatores: Cosmetidae).  Journal of Arachnology 41: 219-221. 
Schaus, M.H., W. Godwin, L. Battoe, M. Coveney, E. Lowe, R. Roth, C. Hawkins, M. Vindigni, C. Weinberg and A. Zimmerman.  2010.  Impact of the Removal of Gizzard Shad (Dorosoma cepedianum) on Nutrient Cycles in Lake Apopka, Florida.  Freshwater Biology 55: 2401-2413.