---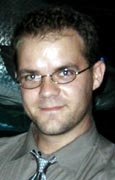 John received his Masters of Fine Arts degree from the University of Georgia in 2002. In 2003 he served as a Visiting Lecturer of Art at Clemson University, and in 2004/2005 he was an Assistant Professor of Art at William Carey College in Gulfport, Mississippi. His artwork is a blend of traditional drawing and painting combined with digital imaging. His work has been shown in venues such as the Georgia Museum of Art, the Miami University Art Museum in Oxford, Ohio, and the Lauren Rogers Museum of Art in Laurel, MS. "My favorite aspect of teaching is the exchange of ideas in a liberal arts environment. I like the cross pollination of ideas across disciplines and between students and teachers. We're all interested in learning.
Faculty Features:
Rudel, John. "Hampton Roads Photographers," (curated by James Jones), Charles Taylor Arts Center, Hampton, VA 2006.
Rudel, John. "Doors," Grove Arcade, Asheville, NC, 2006.
Rudel, John. "Mid-Atlantic Juried Exhibition," D'Art Center, Norfolk, VA, 2006.
Rudel, John. "Really Digital" (curated by Michael Preble), Peninsula Fine Arts Center, Newport News, VA, 2006.
Rudel, John. "Things Tell Stories," Art Gallery Lorrie Saunders, Norfolk, VA, 2008.